This time I want to review the 41 episode Chinese
Go Go Squid
series of Friendship, Business, Comedy, Romance, School, Youth, released in July 2019 and it's can be viewed
HERE
. Actor
Li Xian
was my choice this time because he's very cute but frozen hearts against women.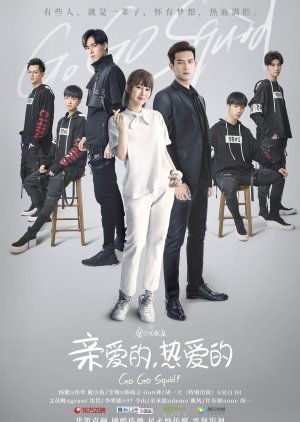 Go Go Squid


MAIN CAST:
Yang Zi as Tong Nian
Li Xian as Gun/Han Shangyan
Hu Yitian as DT/Wu Bai (God's Left Hand)
Li Zefeng as Solo/Wang Hao
Wang Zhen'er as Appledog/Ai Qing
Lee Hong-chi as Xiao Mi/Mi Shaofei
Wen Yifan as Grunt/Shen Zhe
SYNOPSIS:
A cute romance between a adorable singer who develops a crush on a guy that she is too scared to approach. He is a genius in the field of computer engineering and a legend in the world professional gaming.
It is late evening when Han Shang Yan walks into an internet cafe. While helping her cousin watch the shop, Tong Nian catches a glimpse of Han Shang Yan and immediately falls for him. She is usually brave, outgoing and has tens of thousands of followers from singing covers online but she fumbles whenever she encounters him.
She is used to interviews but can't even utter a word when speaking to him. He is cold, hard to reach and not the type of guy to be interested in girls but Tong Nian's unique personality and her persistent ways to get close to him begin to catch his attention.
-en. Google-
'Let me tell you, In my dictionary, the word LOSE doesn't exist'
Why everytime something happen Gun/Han Shangyan will eat candy?
This is why..
(episode: 10)
'Is candy that good? Every time I see you, you eat a piece.'
'All people thought I ate candy because I was mad. But, that's not it.'
'Then why do you?'
'Just when you eat candy, it's harder to speak. So, if you want to insult someone, you can't. Also candy is sweet. So, you think, 'why do my words have to be so sour?' 'You don't believe me? If you don't, eat a piece each. Have a candy in your mouth and try to insult me.
'Don't look around everywhere, look where you're going'.
'Our dream has been sleeping for a long time. All of our past effort and honor have been renewed starting from this moment'.
'I wish I could be with you twenty five hours a day'
Couples who are cute because they have no romance..
'I have you by my side to accompany me, don't I?'
Solo and Old Han
The finally came back together after years of avoiding each other because of the game they used to have
'Don't worry, I will definitely not let her suffer'.
Final Episode:
Father:
'I want to ask you. I only have this daughter. From when she was young, I have never let her suffer hardships.'
Gun/Han:
'Don't worry. I will definitely not let her suffer.'
Father:
'People always say that daughters are daddy's girls, daddy's heart.'
Gun/Han:
'I will love her like you do but double it and double it in loving her.'
Father:
Silly child don't cry. Then, there is nothing else for me to say.'
Finally, Tong Nian's mother is also soft enough to accept Gun'Han as his daughter-in-law..
Gun/Han:
'Auntie, I know that you are anxious about me. Our age gap.. I cannot change it but in future days, I will do my utmost to love her. I will live everyday as if it were a lifetime.'
Mother:
'Then, in the future, please love Nian Nian well. You hear?'
They finally came together and lived a happy life.
#KisahKita: 9/10 for this drama..